Best Dog Foods for American Bulldogs in 2023
American Bulldogs are athletic dogs with muscular frames and stocky builds, and tons of energy!
If you want your American bulldogs to grow healthy and strong and to support their natural build and energy levels, you need to provide them with the best dog food for the American Bulldog needs.
When you check out the market for quality dog foods, they all claim to be the best.
How can you ensure you are choosing quality food that will support your American bulldog's needs and provide them with appropriate nutrition for the long haul?
We're here to help!
We've taken the time to do the research and narrow down the market so we can share with you the best dog foods for American bulldogs.
When it comes to feeding your dog, we want you to have the very best in terms of ingredients, flavor, nutrition, and price!
Let's take a deeper look at our top choices.
Best Dog Food for American Bulldogs
Below, you will find our favorite top-rated dog foods for American bulldogs.
Each review will provide a comprehensive overview as well as a list of pros and cons for you to consider!
1. Purina One Smart Blend True Instinct Adult Dry Dog Food
Our top rated dog food for American bulldogs is a really great option for any dog and works especially well for the food needs of American bulldogs. You can purchase these dog food brands in many different size options and this particular blend is designed for an adult dog.
True Instinct is a nutrient dense formula that is grain free dry dog food. It has real salmon and real tuna and the protein is the #1 source for ingredients.
This food provides the necessary protein content without adding any artificial flavors or preservatives. It contains natural vitamins and minerals and nutrients that are essential for the health of your bulldog.
This high quality food from Purina One will help to boost your bulldogs immune system, provide them with healthy energy, and enhance the shine of their coat. The improvements from the food quality affect both the internal and external qualities of your precious puppy.
Pros:
+ Supports strong muscles, healthy joints, and an active lifestyle
+ High quality food with an appropriate protein source
+ Does not contain any filler ingredients
+ Rich with protein, fatty acids, carbohydrate sources, and Omega 6 fatty acids
+ Great for any dog breed and perfect for American bulldogs
Cons:
+ May cause gas in some dogs
Why We Like It – This option from Purina One is one of the best dog food for American bulldogs that you will find!
Under every analysis, the results consistently tout high quality ingredients with good flavor that even an American bulldog puppy could appreciate.
---
2. Instinct Original Grain Free Recipe Natural Dry Dog Food
Instinct is made by the Raw Brand which falls into Nature's Variety. This particular option is the original blend and it is great for any large dog breed. Adult & puppy dog food for large breed dogs is always available in the market if you'd like to check.
The protein source comes from real animal ingredients and this is a grain free recipe with plenty of protein, Omega 3 fatty acids, and other vitamins and minerals for your American bulldog puppy.
The ingredients include real beef as well as vegetables, fruits, and reliable ingredients. You might find sweet potatoes but you will not find filler grains, corn, soy, or regular potatoes.
This dog food is made in the USA and the brand promises that you can enjoy pure, real nutrition in every single piece of food.
The ingredients are real, which means the nutrition your adult dog will receive from the dry dog food is also real.
From amino acids to omega 6 fatty acids and everything in between, this grain free best dog food provides quality American bulldog nutrition that could be valuable for any dog breed across the board.
Pros:
+ Made with USA-raised real beef
+ High protein levels without pros grain added
+ Dry dog food with nutrition in every kibble
+ No fillers, additives, or meat by-products
+ Protein sources and carb sources are natural ingredients
Cons:
+ Contains a variety of proteins in the ingredient list, including both beef and chicken so if your dog is sensitive to ingredients or certain meats, this may not be a good option.
Why We Like It – Dog lovers are choosing this brand because you can rely on quality ingredient makeup that uses natural meats and vegetables without all of the additives that really do nothing to support immune system health or the energy needs of your puppy.
---
3. Blue Buffalo Life Protection Formula Bulldog Adult Dry Dog Food
Next on our list is the ever popular Blue Buffalo formula that has long been one of the best dry food options because your American Bulldog will get a balanced diet and optimal nutrition.
This food has specialty lifesource bits that are unique to their brand. Those bits have specific nutrients that are rich with antioxidants to promote bone and joint health as well as the immune system.
Blue Buffalo has been in this game a long time and they bring a taste of the wild into their dog food. You can choose different flavors including a chicken and brown rice formula, fish and brown rice, lamb meal and brown rice, and more.
They also have a healthy weight and small bit formulas that might be helpful for an American bulldog puppy or a dog who prefers small bites.
This food may be the best dog food for American bulldogs that is really suited to aged bulldog needs. Of course, that doesn't mean your puppy or young adult bulldog can't benefit from the food. It just means this food is designed to sustain older dog activity and nutrition.
Pros:
+ Dry dog food with special bits for American bulldog enhanced health
+ Has been recommended by veterinarians that prefer to take a holistic approach
+ High quality ingredients with proteins and healthy grains
+ Choose from chicken or other flavor choices
+ Reliable food from a tried and true dry dog food brand
Cons:
+ Not all dogs like the life source bits addition and some eat around it. If your dog is a picky eater choose another one of our recommended foods.
Why We Like It – It's always nice to see that the first ingredient is real meat from chicken or another protein source.
When a food is reliably free of artificial flavors and contributes to your American Bulldog's health, it's worth a second glance as one of the best.
---
4. Royal Canin Bulldog Adult Dry Dog Food
American bulldogs are a breed of bulldog so it's safe to say your American bulldog would benefit from bulldog nutrition, right? T
hat's our analysis and it seems to be a general consensus across the board. Royal Canin provides just such a solution for your dog food.
This package has an easy open seal and a zip system that a lot of dog food simply doesn't offer, which helps to keep your ingredients and food fresh and delicious for your dog.
The kibble is tailor-made. It contributes to high quality protein content for your dog's energy levels and also supports healthy skin as well as bone and joint health.
The company offers a guaranteed analysis that provides a breakdown of the protein as well as fat, fiber, and moisture contents in this grain free food.
This was designed specifically for a bulldog so you may have to adjust the serving sizes to accommodate your American bulldog.
Pros:
+ Protein from real chicken and not chicken meal
+ Designed specifically for bulldogs
+ Sealing bag to stay fresh
+ Reduces odors, promotes healthy skin, and bone and joint health
+ Balanced nutrition source
Cons:
+ Designed for a bulldog so may require some adjustments to meet your dog food needs
Why We Like It – We chose Royal Canin because it is very specific to the bulldog breed and addresses some needs that really do need to be tackled. Know about this brand through Royal Canin Dog Food Review.
It has a good balance of Omega 3 ingredients as well as protein and other food needs.
---
5. Wellness Core Natural Dry Dog Food
Next on our list comes another natural ingredient dog food that uses something besides chicken.
Not all dog breeds do well with chicken or beef and if you need an alternative, Wellness Core Natural Dry Dog Food could be a good solution for your puppy.
This does have chicken but the first ingredient is turkey so it mixes it up a little.
This food includes ingredients that promote glucosamine and chondroitin to sustain your dog's joint and bone health among other things.
It will help them to have full body health from dry food, including omega 3 ingredients and protein rich ingredient items.
Deboned turkey is the first ingredient in this dry food. There are no fillers or artificial ingredients that are not helpful or supportive.
This grain free dog food is made in the USA. It's great for multiple dog breeds with chicken and turkey, and even sweet potatoes. There are other flavor options as well and you can choose a bison venison blend that your puppy could love.
They also have a lamb option that is not a lamb meal.
Pros:
+ Made in the USA
+ Uses turkey as the first ingredient
+ Benefits of glucosamine and chondroitin
+ Dry food designed for energy and lean muscle
+ Promotes whole body health
Cons:
+ The downfall to this option is the bag quality itself is not great and can deteriorate if handled roughly
Why We Like It – We love this because it gives you another alternative that isn't strictly chicken and beef ingredients.
Turkey and plenty of other wholesome ingredients that are designed to promote health and well being for your dog from nose to tail.
---
6. Natural Balance L.I.D. Dry Dog Food
Natural Balance L.I.D. Dry Dog Food is made to give your dog nutrition with limited ingredients.
You shouldn't have to worry about what they are taking in and with this dog food you don't. The protein is a single animal protein source rather than multiples. This grain free dog food is made with a sweet potato and venison formula.
They have several different flavor options but the key factor is that they are all high quality choices that focus on a few important ingredients rather than diluting the quality with multiple protein sources. You can use an option with chicken, fish, duck, bison, and more.
This offers a balanced formula that includes sweet potatoes rather than grains. This is suitable for all breeds and all dog sizes. This brand is a top seller if you are specifically looking for an option with limited ingredients that will still provide the nutrients that your dog needs.
Pros:
+ Limited ingredients
+ Includes sweet potatoes and is grain free
+ Great for all breeds and not just one size or age
+ Supports overall health
+ A simplified, balanced diet
Cons:
+ As you change diets, your dog may experience increased bathroom usage
Why We Like It – We love that you get simple and reliable nutrition here. You get a protein like chicken or another meat with a staple and filling grain replacement and vegetable. It's packed with quality nutrition elements that are designed for the purpose of health and nutrition alone.
---
7. Hill's Science Diet Dry Dog Food, Sensitive Skin & Stomach
Next up is a brand you may have heard of. Hill Science Diet Dry Dog Food is a pretty popular name and it deserved a place on this list to feed your American bulldogs.
This brand has been around for years and is one of the highest vet recommendations across the board. It's quality food with quality nutrition you can rely on.
This particular blend is designed for sensitivities. If your puppy dog has any skin or stomach sensitivities, this chicken-based formula is gentle. This one is designed for nutrition and optimal digestive and skin health as a whole. The ingredients also contribute to heart health for your dog as well.
This brand is made in the USA with ingredients that are reliably sourced. The food has been clinically proven through analysis and research to provide valuable nutrients, minerals, and antioxidants for your pet. It's nice to have a brand to rely on and that is the #1 vet recommendation if you need trustworthy options.
Pros:
+ Designed with prebiotic fibers for gut health
+ #1 vet recommended option
+ Perfect for skin and stomach sensitivities
+ Chicken is the #1 ingredient and protein
+ Made in the USA
Cons:
+ Not all dogs are huge fans of the taste of this food but most will eat it regardless
Why We Like It – We love that this formula offers you a vet-recommended option that takes your dog's skin and stomach needs to heart. It's a popular and reliable option that you really can't go wrong with.
---
8. Iams Proactive Health Minichunks Dry Dog Food
Iams is another well-known brand in the dog food industry and this option is a solution for the books.
The mini chunk design helps to provide an easily digestible solution that is also easy for your dog to chew and swallow. If you have a dog that just snarfs down their food, it can be helpful for that as well and far more friendly to their digestions.
Iams isn't grain free as they believe that grains are an important aspect of a balanced diet. However, the grains are things like brown rice that are whole grain and nutritious. The primary meat is chicken, which is sourced naturally and reliably. Iams is made in the USA and they take pride in using quality items for the task.
This is another veterinarian recommended option. It doesn't contain any harmful fillers and it has no artificial flavors or preservatives either.
It is loaded with nutrients and antioxidants in an effort to promote total body health from nose to tail. You can see the ingredient list easily. The bag has a handy serving guide and even recommendations for using wet food with dry food for your puppy.
Pros:
+ Veterinarian recommended option
+ Mini chunks can help reduce choking
+ High quality nutrition
+ Designed for whole body health
+ No fillers or preservatives
Cons:
+ Does contain some grains (wholesome grains)
+ May not work for dogs with sensitivities
Why We Like It – We love that this is another known name that is worth far more than just the brand when you are looking for the best food for your American bulldog.
Dog foods have to be more than just a brand and this option is another of the best.
---
9. Lucy Pet Formulas for Life, Sensitive Stomach and Skin
Next on our list is Lucy Pet Formulas for Life, a brand that isn't quite as known but is still worth the mention.
This dog food is comparable in price to similar options out there but it is highly rated across the board and it easily steps up from Taste of the Wild in many ways that will benefit your puppy for life.
This pet food takes an interesting approach using things like salmon, pumpkin, and quinoa in the formula rather than chicken, beef, or rice. It's reliable and provides a solution that has been tested and proven to be friendly for dogs with various sensitivities since many of the ingredient items are friendly for every walk of life.
The food is balanced for all dogs and it can really serve dogs of any age from puppy to adult. There is no chicken meal or other filler additives just wholesome, simply nutrition to give your dog the very best dog food available. It's packed with reliable protein, fatty acids, and nutrition that isn't just based on chicken alone.
Pros:
+ An alternative approach to simple health
+ Re-sealable bag for dog foods preservation
+ Not made with a chicken meal or even chicken
+ Provide your American bulldog with a balanced diet
+ Dog food promotes gut health and overall health
Cons:
+ The price is more costly than some comparable alternatives
Why We Like It – It's always nice to have a premium and unique choice to take a look at. We love that this provides you with protein that isn't chicken and it's packed with flavor and nutrients that American bulldogs can really jump on board with.
---
10. Merrick Grain Free Dry Dog Food
Merrick is a dog food brand that is all about whole health made the right way. This company uses real whole foods from local growers to create dog food in their own commercial kitchen.
A strong bonus is that even the bag is superior quality AND it zips and seals between uses for freshness.
This particular recipe of Merrick is real salmon and sweet potatoes, and it is absolutely poultry and grain free.
The top 5 foods included are salmon, sweet potatoes, salmon meal, peas, and potatoes. It's perfect for American bulldogs that simply need complete nutrition without chicken as the protein source.
This formula is 55% healthy fats and fish while the other 45% is composed of produce, vitamins, and minerals essential for your dog's health.
A food with this composition and quality can be really hard to find and bulldogs really need reliable protein. Some of them are sensitive to chicken and it just won't do!
Pros:
+ 5 primary foods are fish, veggies, and healthy fats
+ Locally sourced for production
+ The formula provides balanced nutrition for bulldogs
+ Great for adults
+ The bag seals for freshness
Cons:
+ Picky dogs may not like the flavor
Why We Like It – We love to be able to support a family business that has worked really hard to get their product just right.
From locally sourced foods to an option that provides fish and other nutrient options, this food really has it figured out.
Buyer's Guide for American Bulldog Food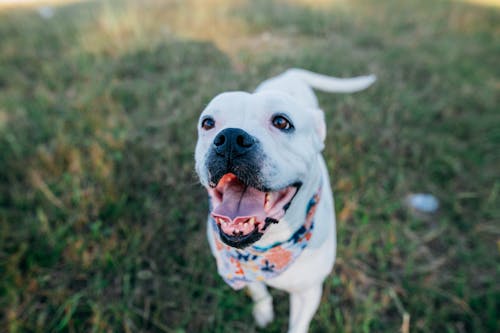 Your American bulldog deserves proper nutrition to keep them fed and healthy. While we have shared several options here, there are some things you might want to keep in mind as you check out the options. There are key things to look for to know that you are truly getting the best food for your dog.
The goal of this buyer's guide is simply to help you make an informed decision as you pick out your American bulldog's next meal.
Nutrition
One very important quality for your American bulldog is the nutrition that you can expect from the food. Many foods will make promises but it is up to us to decipher whether or not they make good on those promises. We can't simply rely on an advertisement and we may have to do a little investigative work to know if your American pup is getting the nutrition they need and deserve.
Here are some things to keep in mind or pay attention to.
Protein
We can almost guarantee that every food for your American bulldog will have some source of protein. This is probably one of the most important items on that ingredient list. It is one of the largest percentages of what the food is composed of.
Not only do you want to be sure the food you choose has protein but you want to know the source of the protein in the food. Is it from real meat or does it come from a compilation of mystery meat? We recommend looking for real meat as the first thing in the food. The second ingredient could be a meat meal (lamb meal and chicken meal are common) if more meat is needed. Then, we move on from there.
Fiber
Every food should have some source of fiber. In dog food, this comes from things like apples, broccoli, pumpkins, flaxseeds, and grains. This is for providing your dog with digestion and metabolism support.
Carbohydrates
Next on a well rounded diet is carbohydrates. You will see many foods free of grains and that is ok but your dog does need a carb source. If it is grain free look for something like fruit that is high in carbs. Otherwise, look for whole grains and healthy grains.
Vitamins, Minerals, and More
Finally, this food is your puppy source for all of their vitamins and minerals. Check out the labeling for vitamins and minerals that are essential to balanced health support and make sure the food you choose is providing them with valuable needs like Omega 6 fatty acids and similar nutrients.
What to Types of Food to Avoid for American Bulldogs?
We've talked about what you want to look for but how do you know what to stay far away from?
Much like with human food, it's a good idea to keep foods as natural and unprocessed as possible. Here are a few things you may want to try to avoid in your dog food selection.
+ Meat by products
+ Artificial flavors
+ Unnecessary fillers like heavy corn and soy
+ Mystery meat with no description or specifics
These are some of the primary things to stay away from as you look at a good food option for your bulldog.
Frequently Asked Questions
What is the Best Dry Dog Food for Bulldogs?
You really can't go wrong with any of the items we listed here today. Our top pick food for Bulldogs is the Purina One option listed in our #1 spot because it has well rounded nutrition, plenty of necessary nutrients, and the price certainly isn't terrible for the quality!
How Many Times a Day Do You Feed an American Bulldog?
The best routine to get into for a grown dog is to feed them regularly twice a day. As a puppy, three times a day is common while they are growing and you can gradually adjust to twice a day.
Try to establish routine mealtimes so your dog can be regulated and scheduled.
What is the Healthiest Dog Food for Your Dog?
Rather than give you a specific brand here, we want to remind you to check out the section as to what you should avoid in dog foods. Your dog may experience better results with different food than your neighbor's dog. It is important to remember that not all dogs are the same so look for proper nutrition as a whole!
What Dog Food is Most Recommended by Vets?
Hills Science Diet foods are arguably the #1 veterinarian recommended food across the board. This is based on a national average. It's a good idea to work with your local veterinarian to see what their recommendations are as well.
Conclusion
You're all set now to jump forth and choose a reliable food for your American bulldog. No matter what it is you are looking for, you should be able to find a reliable solution and have all of the tools you need to make an educated choice.
We sincerely hope you find this guide to be a valuable resource for that solution. Our goal was simply to provide you with options and the tools and now it's your turn to pick your favorite.
Expert Tip
Set up standard meal times and work your dog into a routine. This is the most healthy way for them to enjoy mealtime.
Did You Know?
American Bulldogs can jump up to 8 feet high in some instances and do really well with obstacle courses!
Recommended: Pure Harmony Dog Food Review