If you are looking for dog food that your four-legged friend can enjoy, you're in the right place. We'll be taking a look at this Sundays dog food review that may help you decide whether or not the brand may be worth trying out. It may be frustrating to find the right kind of dog food because there are so many options.
If you are not familiar with Sundays in particular, this is your chance to check it out. There are other dog food reviews that you can check out for yourself as well. This review will go over the best options available including alternatives.
You may have a few ideas about what pet food to choose. So let's find something that your dog might like and they might stick with it for a long time. Before we do, let's talk about the Sundays brand a little further.
About Sundays
Sundays values can be summed up in three words, 'lived, not barked…'. They offer what is considered the 'best for their best friends'. In other words, they believe dogs deserve nothing but that when it comes to their food.
This also means that they strive to be the best when it comes to customer service. This is aimed at dog lovers that care about their furry friend. The active dogs, the lazy dogs, even the ones that trust us, humans, with their lives.
Their food is made for dogs, and designed by humans according to their site. A couple of their foods are air-dried, which is revolutionary compared to other dry dog foods on the market. We'll dive more into Sundays Air Dried food later on in this review.
On their website, they have compared their food for dogs against other leading brands. For example, when pitted against Blue Buffalo, Sundays seems to have won every category. They have air dried food while Blue Buffalo has hot extruded kibble.
Plus, Sundays has compared other dog food brands and claims they have no anti-nutritional value ingredients or anything sketchy or controversial. By the sounds of it, they look to be a dog food brand that has all-natural ingredients.
If you check out their website and find the brand of what you're currently feeding your dog, you can be able to see the difference. In fact, Sundays has a comparison tool that you can see on their website for every brand.
There are a total of twelve brands that you can compare to Sundays. You may be surprised with what you're feeding your dog (assuming their food is one of the brands mentioned on the list). Once you find out what's actually inside, you may find that a switch to something like Sundays may be worth a shot.
Food that is gently air dried just might be right up your dog's alley. If they do like the dry food, Sundays for dogs could be worth a shot.
We Think You'll Like: Best Cheap Dog Food
Sundays History
Sundays is based in Cleveland, Ohio. It was founded by Dr. Tory and Michael Waxman. Tory is a veterinarian that worked with small animals. She grew up in the Chicago area and has lived around dogs her entire life.
The brand received its first round of funding in January 2017 for an undisclosed amount. It had received another amount in 2018 before receiving a $10 million Series A in March 2022. As of today, it has yet to receive any awards.
Sundays has over 1000 customers, making it a small but devoted base made up of dog lovers. So far, it's a brand that is still in the growing process in hopes of reaching others. For a small dog brand, it has really stood out.
They offer a chicken and beef recipe they know dogs can enjoy. If your dog's food doesn't provide them with excellent benefits, it may be a good sign to consider switching. Especially if you have one that is a picky eater.
We Think You'll Like: Best Tasting Dog Foods for Picky Eaters
This vet developed food is one of the first of its kind in terms of air dried dog food. The reason why it's air dried is that it gets rid of the germs that may exist in any other dry dog food. Also, it's designed to be much healthier and easier to eat.
It's a revolutionary concept that some pet food brands are taking note of. So far, not a single major pet brand like Pedigree and Purina are doing this.
So what you're purchasing here is food that stands out among the rest. If you are looking for something that your dog may enjoy and it's beneficial for them, keep reading.
Where is Sundays Dog Food Made?
Sundays for dogs is made in the United States. This is a huge plus for those trying to figure out the actual location of where their food originates from. The reason for this may be due to the reports that many foods that originated from countries outside of the United States (i.e. – China) may contain harmful ingredients that may either harm or kill dogs.
This is a genuine concern that is addressed on a regular basis. We are happy to note that many of the other dog food brands that we've reviewed here are all made in the United States. As a rule of thumb, you can trust dog food brands that are made in the country.
When looking for dog food, it's always a good idea to do your research beforehand. This includes reading reviews like this so you can be more informed and make a careful decision in the future. While your dog's nutrition is important, their safety is also paramount.
If you have any questions or concerns about your dog's food and whether or not it's safe, you can always contact Sundays. We are confident that their food is safe for your dog.
Sundays Dog Food Cost
The price of Sunday's Dog Food will depend on a few factors. You can either get a price for a one-time purchase or subscribe and pay a special price. It can also depend on the number of boxes you purchase. Lastly, the price can change due to the flavor and what size dog you have.
For example, you can expect to pay $75 to $229 for one box of the chicken recipe. For beef, you can pay anywhere from $85 to $249. These prices will depend on the size of dog you have.
Standard poodles for example can rely on the small breed size (unless otherwise noted).
As mentioned, you can save 20 percent off the regular price if you become a regular subscriber. You can be sent a number of boxes for a set frequency. For example, you can get one box sent directly to your door every four weeks.
If you are on a budget, you may see that the prices may be a little out there. The reason for this is you are paying for a higher quality compared to what you see regularly. Keep in mind that this is a good investment if you are serious about improving the overall health of your dog.
Plus, it's one of the first of its kind human grade dog food. So it may be of better quality and made a certain way compared to mainstream brands.
Sundays Ingredient Quality
As one of the brands claiming to have no sketchy or unsafe ingredients, you can rest assured that their foods do not contain any fillers. Nor do they have artificial flavors, colors, preservatives, and anything else that may be considered sketchy.
Sundays Dog Food does not have any grain free options at this time. In fact, according to their site, they believe that such foods have a potential link to heart disease in dogs. As for what other ingredients Sundays food contains, they include the following:
Beef Liver
Usda Beef
Blueberries
Chicory Root
Shiitake Mushrooms
Wild Salmon Oil
Selenium Yeast
Mixed Tocopherols
Pumpkin
Beef Heart
Beef Bone
Sunflower Oil
Tart Cherries
Even though they offer two different flavors, this is all you'll get along with the main ingredients. The blend is more healthy compared to leading dog food brands on the market. Dogs love something that will give them the best quality of life and fend off potential ailments such as heart disease.
Plus, you may want to avoid ingredients that may also be responsible for mast cell tumors. A poor diet can lead to health problems at any point down the road for your dog. If you are in doubt about what you're feeding, it's important to speak to your veterinarian.
Before switching your dog's food, make sure you put a plan in place where you are gradually changing up their food rather than suddenly introducing something new. This includes adding some of the new food into the old.
After a week, you'll want to increase the portion sizes of the new food while decreasing the size of the old. By four weeks, your dog will be eating 100 percent of the new food you'll be feeding them.
Top Sundays Food Product Lines
Now, we'll be taking a look at the top food products for the Sundays brand. As mentioned before, there are two flavors that we'll be taking a look at. Without further ado, let's take a look at the following:
All-Natural Chicken Recipe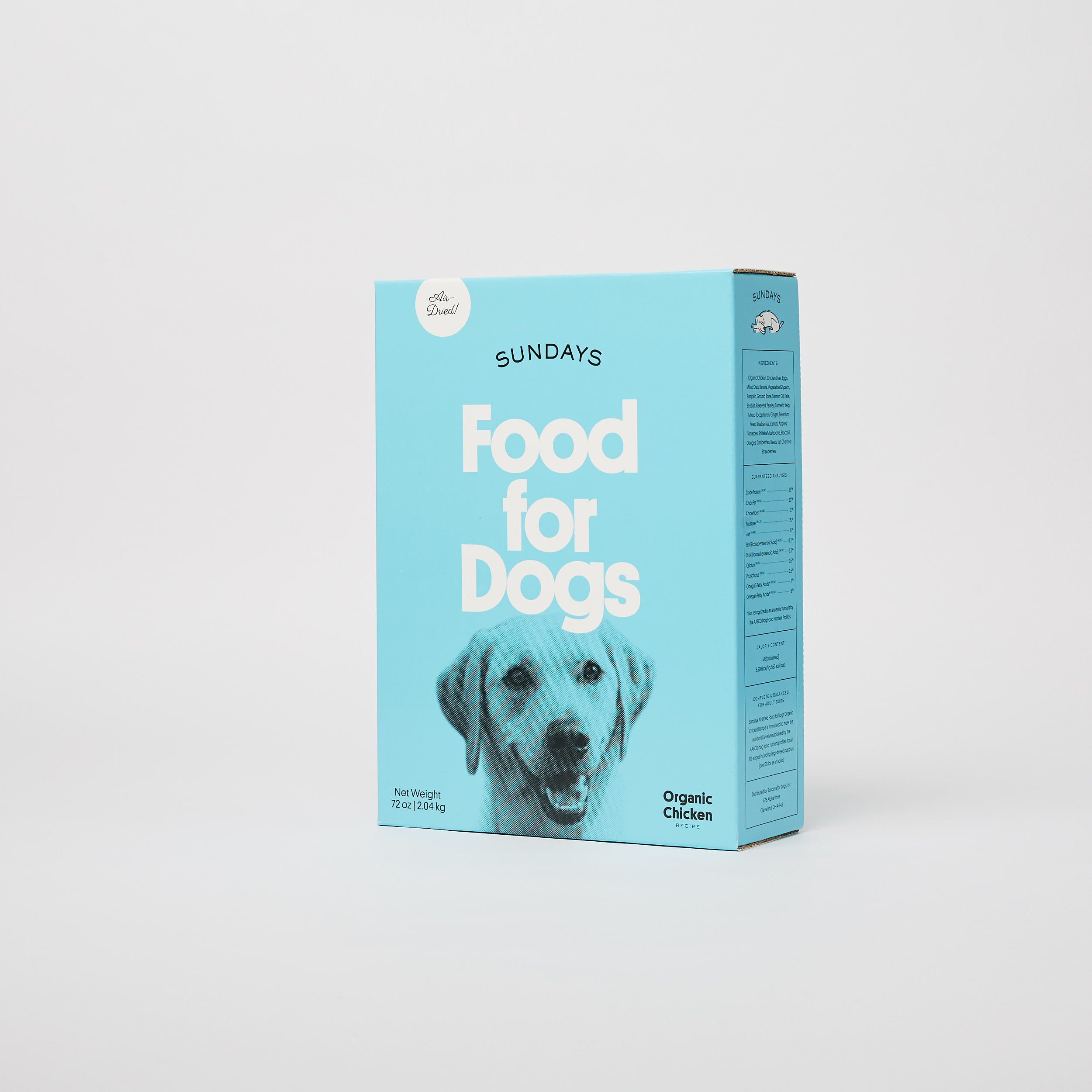 First, we'll be taking a look at the all-natural chicken recipe. This contains the following ingredients: chicken, chicken liver, eggs, oat, millet, pumpkin, fish oil, sea salt, broccoli, and so much more. You get a healthy blend of ingredients that your dogs will love to eat.
You may want to add warm water to soften it up a bit if it may be too hard on your dog's teeth. This food is made from home-cooked ingredients and is air dried for the purpose of killing germs and preserving nutrients. Talk about revolutionary.
If Sundays is looking for a great way to introduce air dried dog food to the market, they have a good argument to present. Whether it's for one dog or three dogs, this is the kind of food you'll want to enjoy.
Even when it's water down, it's still a lot better than wet food. Besides, you won't have to worry about washing down or dimming down the nutrients your dog needs to live a healthy life.
If you are looking for the perfect dog food that tastes like a treat, this one might just be right up your alley. With the right size of kibble, they will enjoy eating this to their heart's content. Whether it's for a pup or a dog in their senior years, they won't be able to resist.
The blend of chicken and superfoods makes for the perfect meal. Especially when you get the added vitamins they need. It may be perfect for that picky eater in your life.
All-Natural Beef Recipe
This is made from the finest ingredients. They include USDA beef, beef heart, beef bone, beef liver, quinoa, wild salmon oil, pumpkin, sunflower oil, kale, flaxseed, chicory root, and more. As always, it includes air dried kibble that your dog will love to eat every time.
This is one of the few dog foods that may be the closest you can get to the best beef flavor yet. If your dog likes beef treats, then they may like this kind of flavor. Feeding them will give them all kinds of health benefits.
You love to treat your pets to some real good food. Whether you own some cats, you can find the best for them. But for now, we're talking about the dogs in your life. Feeding them this all-natural beef recipe will give them the health benefits such as strong muscles, bones and teeth, a smooth coat, and healthy skin.
If you are looking for the perfect dog food they can eat without the fillers, preservatives, corn, soy, or any of that nonsense, this could be exactly what you're looking for. With so many ingredients for that well balanced diet, your dog might just appreciate it.
Air dried dog food never tasted this good. Especially when it's human grade and made in an honest kitchen. What's not to love about that.
Whether it's the chicken or beef brand, you have a revolutionary dry kibble food that is second to none. Even when it's against the leading brands.
Alternatives to Sundays
Now, we'll be taking a look at the following alternatives to Sundays. If you are unsure if the brand is right for you, we'll provide you with these options. Here's what you can choose from:
Rocketo Dog Food
Rocketo offers foods that are made from 100 percent human grade ingredients. They are from farms that are sustainable and responsible. You get air dried dog food that your dog will eat including ketogenic dog food that will help them maintain their weight and live healthy weight.
They offer blends that include super-foods and super-fats as well. Each of their recipes is aimed at keeping carbs to a minimum. If you are looking for food that is easy to digest (even for that one dog with food sensitivities) this might be right up your alley.
---
The Farmer's Dog
The Farmer's Dog makes pet food that is healthier and smarter. Like Sundays, it's made fresh from foods made from the honest kitchen. You get a single bag of vet-developed whole food that is healthy for not just dogs, but also humans as well (but this is food for them, not you…just saying).
If you are looking for something that is safe and high quality, The Farmer's Dog may be a brand that's right up your alley. It's got plenty of meat and provides your dog with plenty of protein, vitamins, minerals, and so much more.
Your pets will get what they deserve with this kind of food. Here's the fun part: you get food that is part of a personalized plan. They have this super cute way of putting your dog's name on their food. Plus, it's easy to open and gets delivered within days.
Your food is never deep frozen and will last months in storage. How cool is that? If you are looking for something that your pets can't resist, this might be exactly what you're looking for.
They'll even put something together for dogs that have food sensitivities. It may not be dry kibble, but it's food made with the natural ingredients your dog craves.
---
Chippin
The Chippin dog food brand is more than just food. They offer all kinds of training treats as well. You can get soft and chewy treats made from all kinds of superfood ingredients. It will be great for dogs of all ages, including the senior dog that may be dealing with mobility issues.
Give them a treat after each of their meals and they won't stop getting enough. Keep in mind though, that one may be enough for them after they eat. You can give them more when they are doing a good job with their training.
If they are eating the right kind of food, they deserve a Chippin treat.
Where to Buy Sundays Dog Food
You can buy Sundays Dog Food from their website at sundaysfordogs.com. Unfortunately, it is not carried by any of the major online brands such as Amazon or Chewy. You won't be able to find it in any local stores.
At this time, the Sundays website may be the only place to purchase it. However, they may consider expanding it into retail stores or other online vendors. There are no known plans of doing this in the future and it may be at the discretion of the company.
For the time being, they seem to like keeping it to a small customer base. If you are interested in buying Sundays and want to see if it stacks up with other brands, using a comparison tool on other review sites may be worth it.
Sundays Dog Food Recalls
As of 2022, there have been no recalls on Sundays Dog Food. However, this space will be updated in the event of any involving the Sundays brand. These recalls can be voluntary or mandatory due to health and safety reasons.
You can sign up for recall alerts on websites such as Dog Food Advisor. Your dog's health and safety are important. Please keep up to date on any dog food brands that may be recalled for any reason.
Wrapping Up
This concludes our review of the Sundays brand. If you are looking for something that will be the closest to real ingredients, you might want to get a good look at them. Air dried dog food may seem like something that isn't widespread in terms of availability.
Yet, it's a smart way to stand out amongst the dog foods out there that may contain ingredients that are controversial. For a company that is making all-natural dog food, they are making a name for themselves in the pet industry.
Your dog may be appreciative of this brand for many reasons. One, it's vet tested and made from real ingredients. Second, they may also like the taste compared to some of the foods they've tried in the past.
And last, they are eating something healthy so it wards off any issues they could have later on in life. With foods rich in protein, vitamins, minerals, and so much more, they'll get plenty of health benefits ranging from strong bones to a smooth coat and everything in between.
If the Sundays brand looks like the best option for you, buy it today. If you want to save money, be sure to subscribe and save 20 percent on every purchase. Either way, don't miss out on trying this brand whenever you get the chance.
Now is the time to check out this small sized dog food company that is aimed at giving your pets the food they can't get enough of.