If you're a dog owner that is looking for the perfect dog food for your four-legged family members, you're in the right place. It may be a challenge to choose the right one, which is why dog food reviews like this exist. We'll be taking a closer look at Pawtree dog food and whether it's a good fit for you.
Your dog's diet is important. You want them to eat the right food so they can be able to live healthy and fulfilling lives. Keep in mind that not all dog food is created equal.
Some of them can contain fillers and artificial ingredients. This can have a negative effect on your dog in terms of their health and well-being. If you are looking for a dog food that you can depend on, find out if Pawtree dog food may be the best option for you.
There are other Pawtree dog food reviews that you can find online including this one. Looking through those will help you make a more informed decision. With that said, let's talk more about Pawtree and what they have available for your dog.
We Think You'll Like: Nutro Dog Food Reviews
About Paw Tree
Pawtree dog food is not a mainstream brand compared to Purina, Pedigree, and other brands that are sold in regular stores. It is sold through a company with the same name, which makes it unique from the others.
The product line includes foods, supplements, and treats for dogs. It's intent is making it a healthy option compared to some of the mainstream dog food brands. They claim their foods contain no fillers, artificial ingredients, corn, soy, and other ingredients.
Aside from dog food, they also sell cat food and toys as well. They make sure to include cat lovers into their customer base. Who can blame them for including people who love their cats more than anything else?
What makes Paw Tree stand out amongst the rest is that it may be an unknown name to many pet lovers. Plus, it's said to be sold online only, giving it exclusivity.
According to some social media posts, Paw Tree is believed to be an MLM company. This may explain why the product line is sold exclusively online as opposed to being sold in stores. If you are planning on purchasing dog food, it may be a good idea to look through various reviews other than this one.
Some may have an issue purchasing items from companies that are seen as MLMs. At the end of the day, it's up to you to make the right decision for you and your dog when it comes to the food they eat.
We Think You'll Like: Best Cheap Dog Food
Pawtree Dog Food History
Pawtree Dog Food is based in Southlake, Texas. It was founded by Roger Morgan, who spent years in the pet food industry as a CEO. He started Paw Tree with the intent of providing premium dog food that was in good quality and healthy for dogs.
He also wanted to make sure that it was made by high quality ingredients. This was aimed at fulfilling the unique needs that dogs have and helping their 'pet parents' make the best decision for them in terms of what they eat.
Morgan was able to work with some of the best veterinarians and animal scientists in the United States to help develop Paw Tree. Today, it is said to be a social selling company where their products include not only dog foods, but also supplements and treats.
This was based on the unconditional love humans and pets have for one another. On paper, it seems that this is aimed at dog owners that will do anything to keep their dogs healthy and living longer.
We Think You'll Like: Carna4 Dog Food Review
Where Is Pawtree Dog Food Made?
Pawtree dog food is said to be made in the United States. This is a plus because of the safety and health concerns regarding dog food being made in other countries. It's important for you to consider where your dog food is originating from so you can make a more informed decision.
Being the first of its kind, Pawtree is hoping that it becomes a leader in dog foods on the market. This can be due to introducing numerous superfoods that will ensure a healthier lifestyle for their dogs. This also includes their seasoning product line that they have created to help boost the flavor and nutrition of your dog's food.
It's always a good idea to take a look at the ingredients as well to determine if they are right for you. Choosing dog foods based on them alone can be a huge help and will save you time, money, and frustration. If you have any questions about what ingredients are good or bad for your dog, your veterinarian may have the answer.
Pawtree Dog Food cost
The price of Pawtree's dog food may be a bit more than how much you'll be spending in stores. You can expect to pay anywhere from $48 to $124 a bag. This will depend on the size of the bag you're purchasing.
What makes this also valuable is the high-quality ingredients that are included. The better quality the ingredients, the more overall valuable dog foods can be. Keep this in mind when you're searching for something that may be the perfect fit for your dog.
Pawtree Ingredient Quality
One of the biggest things dog owners like you may not compromise on is the quality of ingredients provided. Each of them have their own unique flavor from the first ingredient listed on the bag (i.e Pawtree Real Chicken & Brown Rice).
According to the website, none of their foods contain any corn, soy, wheat, preservatives, or fillers. Plus, they are all 100 percent grain-free and gluten-free as well, making it one of the most healthier choices for your dogs. You'll want to take into account the ingredients that are considered the best for your them.
You get natural ingredients including a certain kind of meat. It can also includes rice, fish (such as real trout and real whitefish) real chicken, and more. This will depend on the first ingredients that you'll find throughout the product line.
Later, we'll list some of the popular flavors Pawtree has available so you know what it contains. It's important to find one that will give your dog the best amount of fiber, selenium, biotin, and more vitamins and minerals to help them live a fulfilling and healthy life.
These ingredients will be easy to digest so you won't have to worry about such issues. If your dog may be dealing with such issues with the current dog food they may be eating, it's important to talk to your vet about switching it up.
This can be a daunting task since it may involve introducing your dog into ingredients they may not be familiar with. But it's a step up from feeding them something that may contain a controversial ingredient that doesn't benefit them.
It's also important to look for natural ingredients such as pearled barley or tomato pomace. These can be beneficial for your dog despite being labeled as controversial. It's also important to look at how much protein your dog needs in their diet daily.
It will depend on the size of your dog, however. A good rule of thumb to follow is one gram per pound of body weight. Follow that and your dog will get what they need.
Also, pay attention to the meat content. Having a good amount of it is good for protein. However, there should be other ingredients included that will help give it that variety. Furthermore, they do need their daily dose of vitamins and minerals for their bones and teeth.
If you feed them a good dog food like what Pawtree offers, your dog may not want to go back to what you've fed them before.
We Think You'll Like: Sundays Dog Food Reviews
Top Pawtree Product Lines
Let's take a look now at the following top product lines that are available each with their own additional review:
Real Chicken & Oatmeal Recipe
First, we'll take a look at this Real Chicken & Oatmeal flavor food. This one is great for high protein content. You also get plenty of ingredients including pearled barley, sweet potatoes, dried carrots, dried cranberries, dried blueberries, apples, dried pumpkin, broccoli, spinach, and dried parsley.
This gives your dog a complete and balanced amount of vitamins and minerals for strong bones, a shiny coat, and so much more. The calcium and phosphorus combination will be perfect for teeth and bones while taurine is great for heart health.
This is rich in anti-oxidants and contains DHA for healthy brain development. Overall, it's the perfect blend for your dog. If you are looking to make the switch to something healthier for them, you may want to consider this flavor in particular to start out with.
It's one of the best foods in their line to contain natural flavor so it tastes great. This also has 12 percent max moisture so it's not too hard on your dog's teeth.
Real Chicken & Sweet Potato Recipe
Next, here's the Real Chicken & Sweet Potato recipe. One of these ingredients is Omega-3 and Omega-6 fatty acids that will help with a healthy skin & coat. You also get Glucosamine so your dog has better joint support.
This will be a big help as they get older and reduces the risk of any mobility issues that occur with age. This contains taurine for heart health along with prebiotics to make the food easy to digest. With real chicken as the main ingredient, it's one of the best animal protein options you can find.
This also contains dried sweet potato. With no corn, wheat, soy, or any other fillers, it's the kind of flavor you can trust. You can feed your dog this and feel confident knowing that they are getting the best benefits out of them.
You get plenty of fat based acids like coconut oil and medium chain triglycerides that will help with cognitive functions (which is beneficial in senior dogs). Plus, dogs of all ages can enjoy riboflavin supplement that will be great for all areas of their health.
Real Lamb, Chickpeas & Lentils Recipe (Poultry Free)
If you have a dog that is allergic to poultry, this is a great option. You can still get them something that contains an animal protein for strong muscles. This contains real lamb, chickpeas, and lentils.
This also contains spinach, parsley, apples, blueberries, cranberries, pumpkin, and so much more. Lamb will make it easy to digest and is rich in nutritious value. This contains other ingredients such as taurine for heart health, Glucosamine for strong joint support, and Vitamin E among others.
This contains 12 percent max moisture so it's not so dry or too wet for your dog to eat. If they are looking for something that's easy to eat, this may be one of the best options in the group. You also get that riboflavin support that your dogs need.
Real Duck & Chickpeas Recipe
This contains ingredients that will give you all kinds of protein for your dog. This includes not only duck and chickpeas, but also dried cranberries, dried blueberries, peas, and more. If you are looking for the best meat content in a dog food, this one will be one of them.
With no added sugars and sweeteners, this may be one of the best options for your dog. You also get plenty of vitamins and minerals for bone and teeth health and fatty acids for a healthy skin and coat. It's also specially formulated to reduce stool volume so it makes doing business a lot easier.
If you are looking for the best value for the money, this is one of the flavors to go with. For the cost it's going for, it has high-quality ingredients you know your dogs will love. This includes tomato pomace, which can be found in human foods like ketchup.
This is great for fiber and ensures excellent digestion for your dog. You don't need to add something like ketchup to your dog's food. But tomato pomace is considered to be a controversial ingredient despite it's benefits.
Real Turkey and Brown Rice Recipe
This contains turkey, brown rice, and oatmeal. If you are looking for an excellent source of protein, this just might be what you're looking for. This also contains several vitamins and minerals that your dog will need for overall health and development.
It's got dried carrots, dried parsley, dried sweet potato, dried pumpkin, dried spinach and so much more. You get plenty of meat in this dog food that will give your dog plenty of muscular support thanks to the amount of protein in every bite.
It's a good meal for your dog no matter what day it is. With the combination of turkey and brown rice, your dog will be happy with it.
Alternatives to Pawtree
If you are considering alternatives to Pawtree, it's important to take a look at dog food reviews that contain the following on this list below. This will give you a chance to compare other foods compared to Pawtree. There may be a huge difference between them. Let's take a look at the following
Ollie
Ollie brand dog food has fresh natural flavor ingredients that your dogs might love. They can also be customized to fit your dog's nutrition needs. If you start ordering from them, you get half off your first order.
It's dog food made your way and you'll see everything included on the label. Best of all, it's shipped directly to your door. Just open a new account and get started.
Spot & Tango Unkibble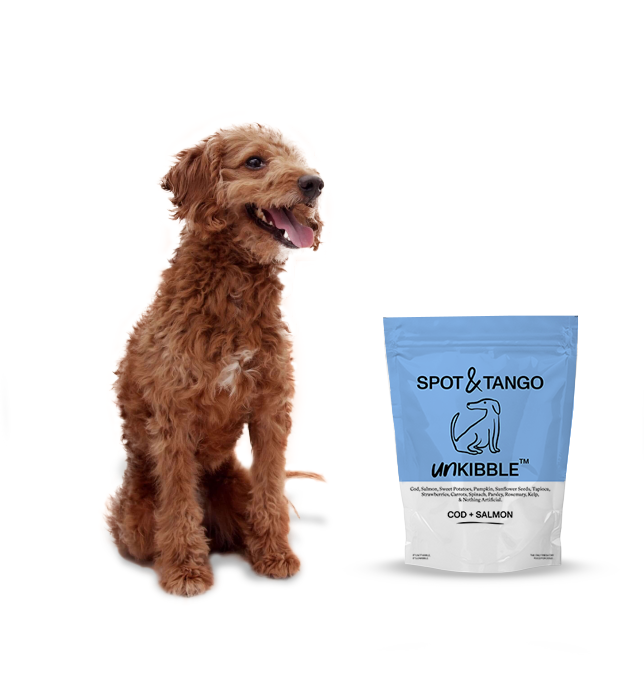 If your dog eats dry dog food and you're looking for something that is an alternative to the mainstream stuff, Unkibble just might be exactly what you're looking for. It's available at a good price and it's made from a natural flavor.
If you are looking for something with kibble, you may not have paid attention to the name. It's Unkibble, which means it doesn't have any. It does have dry pieces that are made from all the ingredients that you know ant love like rice, chicken, and so much more.
Blue Buffalo Life Protection
If there is one brand you can depend on in stores, Blue Buffalo may be the go-to option. This one will be for those that may not want a fresh option just yet, but want to feed them something healthy in terms of a meal. Your dogs get a good amount of B vitamins and fiber.
Where to Buy Pawtree Dog Food
One place to buy Pawtree dog food would be via online through their website. You may also buy it through a vendor or seller. Keep in mind that the price may vary depending on where you are purchasing it from.
Pawtree Dog Food Recalls
As of right now, Pawtree dog food has no known recalls at this time. However, this may change depending on reports made by pet owners. If there is any information regarding dog food recalls including Pawtree will be updated here.
Wrapping Up
If you are looking for a dog food that is rich in protein, fresh ingredients, and so much more, Pawtree might be exactly what you're looking for. You can purchase a bag online and have your dog try it out.
It may be a brand you might not have heard of. But it looks like something that is flying under the radar. You get plenty of meat (depending on the flavor), real ingredients such as real trout, brown rice, and so on.
Be sure to read the label on your dog's food before you make a choice. If you are not sold yet, you can check out more Pawtree dog food reviews to help further make the best decision.