As the owner of five amazing dogs, I always find it important to research each dog food brand before allowing my fur babies to chow down. With new pet food products popping up each year, sometimes it is hard to choose one over the other when you are standing in the aisle of the store.
It is important to do plenty of research ahead of time on which dog food brand will be best for each of your dog's life stages and which food will provide wholesome nutrition. Knowing which dog food products are best for your dog before you make an impulsive buy means better nutrition and a boosted immune system for your dog.
In this article, we are going to be taking a closer look at Abound dog food reviews and statistics. This brand of kibble and jerky is not one of the major pet food brands but is still widely sold across the United States at many locations. It comes in a dry dog food formula and a wet stew version with multiple flavor options. They also have pet treats as well!
If you are interested in Abound dog food, stick around and follow through this article to find out more about its nutrient data, quality, price, recalls, and much more.
We Think You'll Like: Best Dog Foods to Gain Weight
About Abound Dog Foods
The Abound brand claims to be healthy food that your pup will love. They have pride in their brand by using high-quality ingredients approved by food scientists and nutritionists. Their blend allows your dog to receive the optimal nutrition needed to stay healthy and strong.
Abound has wet and dry dog foods as well as a line of dog treats. They have multiple formulas for their dog food products, one being a grain-free version that contains no soy, corn, wheat, or artificial colors, which is perfect for dogs with skin allergies or digestive issues.
Abound grain-free removes the whole grains such as brown rice and replaces them with quality ingredients such as sweet potato, animal fat, amino acids, and omega 3 fatty acids from fish, which helps your dog's digestive tracts, especially if they are allergic to grain.
We Think You'll Like: Best Low-Fat Dog Food
If your dog doesn't have grain sensitivities you can buy their dry dog food that is made with natural flavor, pea protein, wholesome whole grains, and essential antioxidants.
Abound also has a superfood blend that includes salmon, egg, and pumpkin. It provides essential vitamins and minerals for a healthy immune system and strong muscle growth. The added fish oil and amino acids are great for active dogs.
Abound has something for every dog at each stage of life, including puppies and adult dogs. Their growing product line ensures that pet owners are always pleased with something to suit their pet's needs.
Overall, the Abound brand of dog food reflects in the dog food space nicely. They use comparable formulas to other popular brands of dog food and similar quality ingredients. Their dog food is manufactured in the United States, and all ingredients come from the United States as well.
We Think You'll Like: Wholesomes Dog Food Reviews
Abound Dog Food History
The Kroger Co. makes abound dog food, you can buy it at any Kroger store or any of its sister companies. You can also purchase it on Amazon and have it delivered to your door.
The Kroger Co. is a multibillion-dollar company, earning over 100 billion dollars per year. Their customer loyalty is high which helps the Abound brand flourish. They have multiple sister companies such as Ralph's, Dillons, and Fry's which all sell the protein-rich dog food. They have even started selling their brand of cat food as well.
The Abound brand of dog food was first put on the shelves in 2014 at a few Midwest Kroger locations. They spent two years on the formulation process. They wanted to make sure that the brand used quality proteins, omega 3 fatty acids, and no artificial colors or flavors.
It was first manufactured by Sunshine Mills and sold at a few Kroger locations across the United States. An unexpected recall in 2018 pulled it from the shelves, causing a change in the company. After the recall, Kroger Co. reformulated the pet food to make it safer for dogs and began manufacturing and distributing it without Sunshine Mills.
Abound is now a trademarked brand of the Kroger Co. They use their manufacturing company called Inter-American Products to produce the product and provide a safe experience for their loyal customers.
We Think You'll Like: Freshpet Dog Food Reviews
Where Is Abound Dog Food Made?
When Abound was first created in 2014 it was made mostly in the United States, with 2% of the ingredients outsourced from other countries. Abound wanted to be able to label their dog food as 100% made in the USA. But, they were unable to label their product all American because of the outsourced ingredients.
Many customers felt very strongly about voicing their opinion to get Kroger Co. to stop outsourcing to other countries for their ingredients. After a few years, Abound listened to what their customers wanted and now all Abound ingredients are now 100% sourced from the United States.
Abound cat and dog products are manufactured by Inter-American Products located in Cincinnati, Ohio. Inter-American Products is the main supplier for many of the products sold at Kroger and their other companies such as Ralph's, Food 4 Less, and Dillons.
We Think You'll Like: Farmina Dog Food Reviews
Abound Dog Food Cost
Abound has many varieties of animal food products. Each animal food has a different price depending on the size of the item and which type of item it is. For example, their dental chews and treats will cost more than the dry dog foods. Below we will share with you more cost information for each food product.
If you check each Abound product above, you can see the average cost per pound of their grain-free dog food will cost around 2 dollars per pound and the average cost for their chicken and brown rice dog food costs about the same price. Since the cost is so similar, you can choose the one based on your pet's needs without worrying about one being more expensive than the other.
Their grain-free dog treats are priced much higher per pound than their dry foods. The treats are grain-free and also packed full of protein, vitamins, and essential nutrients for your beloved pup.
Abound Ingredient Quality
Abound states that it follows all requirements to ensure its food is of the highest quality. They assure dog owners that their products contain no artificial flavors or colors and are made with essential proteins and all-natural ingredients.
The listed ingredients for their chicken and brown rice dog food state that they use natural flavors, deboned chicken, brown rice, and omega 3 fatty acids sourced from fish. Each ingredient confirms that the formula is safe for pet parents to feed their furry pals and is tasty and nutritious. Abound is a good dog food that your pet will love.
Other ingredients listed on their products are canola oil, grain by-product, animal byproduct meal, menhaden fish meal, and chicken meal. Some of these products are controversial and should be only given to your dog if they have a healthy immune system and show no signs of heart disease.
Canola oil is likely made from genetically modified crops which can contribute to long-term growth effects, but this is a heavily debated topic. While many veterinarians believe that this oil is a proficient source of fatty acids, some believe that over time it can hinder growth.
Menhaden fish meal is another listed ingredient, it is considered a quality ingredient for your dog's food. The fish meal adds essential fatty acids and Vitamin d which are excellent nutrients for your dog.
Chicken meal is another listed ingredient, it is also a high protein ingredient that gives your dog a source of chicken fat and amino acids. The chicken meal can be any part of the chicken, including bones, chicken fat, or meat. It is then dehydrated and added to the dry food.
Abound dog food meets all FDA and AAFCO requirements and is 100% made in the USA.
Top Abound Product Lines
Abound has multiple top-selling products for each of your dog's stages of life. Whether you have an adult golden retriever or a chihuahua puppy there is an Abound product that is right for your dog! Below we will go more in-depth on each of their top product lines.
Chicken & Brown Rice Dog Food
The Abound chicken & brown rice recipe is a great source of vitamin d and omega 3 fatty acids for your dog at all of its life stages. The Abound chicken recipe has chicken meal, brown rice, and essential chicken fat which makes it a great dry food formula for your dog's digestive tract.
This recipe uses high-quality ingredients and is favored by many dog owners because of its wholesome nutrition and protein-rich formula. You can purchase this recipe for your puppy, small breed, or large breed dog.
This product receives a 4.6 out of 5-star rating on Amazon and is one of the only recipes that can be bought in a 24-pound bag! Check it out here!
Grain-Free Salmon and Sweet Potato
The grain-free salmon and sweet potato contain no artificial flavors or colors. It is a blend of fish oils made from salmon and menhaden, providing your pup with essential fatty acids. It also contains garbanzo beans and sweet potatoes which are great sources of plant-based protein and vitamin d.
The Abound salmon contains real deboned salmon and protein-rich chicken meal. Each of these ingredients is important for your dog's immune system and helps prevent heart disease.
Grain-Free Beef and Sweet Potatoes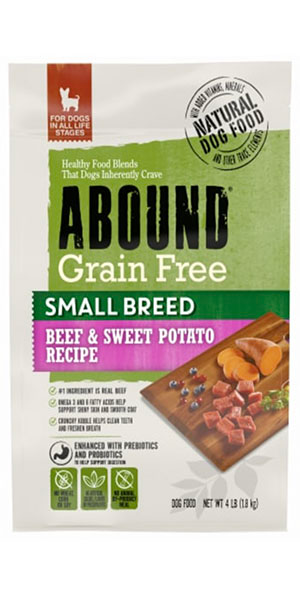 The Grain-Free Beef and Sweet Potato recipe is perfect for small dogs! If you are a pet parent to a small breed, you understand how finding the perfect food for your tiny dog can be challenging. But this beef and potato recipe is a wonderful choice for our small furry friends.
Packed with deboned beef, chicken and turkey meal, and natural chicken flavor your small breed won't have any troubles getting the right amount of protein. Want more nutrients for your dog? Don't worry, this recipe also contains ample amounts of potatoes, carrots, papaya, and flaxseeds!
Enjoy this 5-star small breed formula or try the beef and sweet potato stew! Check it out here!
Superfood Blend Salmon, Egg, & Pumpkin
This superfood blend of salmon, egg, and pumpkin is an excellent source of omega 3 fatty acids, vitamin d, and fiber. The superfood blend not only has two sources of fish, but it also contains chicken and eggs!
It is packed full of protein and essential minerals, vitamins, and natural flavors that your dog will love. No need to worry about supplementing your dog with other vitamins or products because this recipe has it all!
This recipe receives a 5-star rating and is sure to fulfill all your dog's nutritional needs! Check it out on Amazon here.
Abound Duck, Sweet Potatoes, and Venison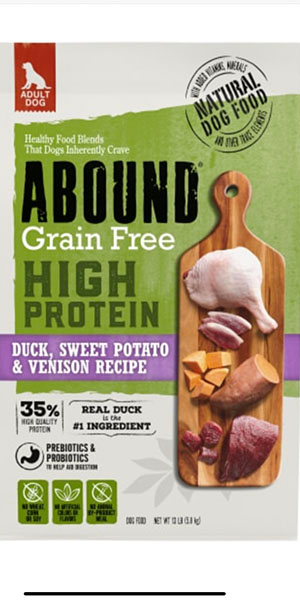 This blend adds a high protein combo into one bag! This grain-free duck, sweet potatoes, and venison recipe is blended into a delicious kibble for your dog to enjoy. Enjoy feeding your fur baby a mix of grain-free duck, turkey, venison, chicken, and fish for a high-protein meal.
Also added to this premium kibble are peas, potatoes, blueberries, cranberries, and apples. Plenty of antioxidants and vitamins for your dog's daily health needs.
While we could find a rating for this high-protein kibble, we did find a 4.5-star rating for the Abound Duck Jerky Bites on Amazon! Check them out here!
Alternatives to Abound Dog Food
If you are not convinced that Abound dog food is right for your dog, then you may be interested in an alternative option. Below are a few different brands with similar formulas to Abound that are more common at pet stores across the United States.
Blue Buffalo Grain Free Chicken & Potatoes
If you love the idea of feeding your fur baby a no-grain diet, then Blue Buffalo Grain Free Chicken and Potatoes is a great alternative to the Abound chicken grain-free formula of dog food. Blue Buffalo uses quality ingredients such as chicken, potatoes, flaxseed, and carrots to give your dog the essential nutrients they need to boost their immune system.
Blue Buffalo can be bought at any pet supply store such as Petco, PetSmart, Pet Supplies Plus, and many supermarkets around the country. It is also sold on Amazon and can be delivered to your front door. Buy it on Amazon here!
Nature's Recipe Lamb and Rice
Nature's Recipe is the go-to budget-friendly option for many pet owners. Protein-rich lamb is added to their lamb and rice recipe with no added soy, corn, or wheat. This blend is great for dogs of all ages and is trusted by many animal owners.
Compare this brand to the Abound lamb recipe and you will see that they are quite similar. With a 4.5 star rating on Amazon and a plethora of locations for sale, this brand surely won't disappoint. Buy it here!
Where to Buy Abound Dog Food
The Kroger Co. makes abound dog food in the United States. Abound is sold across the nation at all Kroger stores and their sister companies. The Kroger Co. owns Baker's, City Market, Dillons, Food 4 Less, Foods Co, Fred Meyer, Fry's, Gerbes, Jay C Food Store, King Soopers, Kroger, Mariano's, Metro Market, Pay-Less Super Markets, Pick'n Save, QFC, Ralphs, Rulers, and Smith's Food and Drug. They accept money in the form of credit cards, debit cards, gift cards, or cash.
You can also purchase the Abound brand of pet products online at Amazon.com, not only can you purchase the items without leaving your house, but they will also deliver them straight to your door!
Abound Dog Food Recalls
There have been two recalls on the Abound brand of pet products. Both recalls were small and limited to single stores. Each recall took place in 2018, and since the recalls, there have not been any significant problems with the brand.
The first recall was in November of 2018 in Matthews, North Carolina. The FDA issues a recall on the Chicken and Brown Rice kibble that was packaged in 4-pound and 14-pound bags. The recall was issued because there were elevated levels of vitamin D which could cause kidney failure, renal failure, or possibly death.
The next recall came only one month later in December of 2018 in Kentucky. This recall was also on the Chicken and Brown Rice Recipe, but only the 4-pound bags were pulled this time. They were also flagged as having dangerously high levels of vitamin d which could cause kidney failure, renal failure, or death.
My Final Word
Abound is a medium-tier dry dog food that uses semi-premium ingredients for your pet's needs. While it isn't a top-name brand of dry food, it is sold widely across the United States at many locations. Abound has run into issues in the past, but they promptly recalled the products and quickly fixed the issues.
If you choose to purchase this brand, always be sure that your pet is getting the right formula based on their needs. Always check with your veterinarian to see if your pet has any underlying health issues such as allergies or digestive problems that could cause this brand to be unfit.