Best Dog Food for Border Collies
The Border Collie is playful, fun, great with children and incredibly intelligent, and it is a dog breed used to herd sheep, work in farm environments, for sports like agility and as regular pets.
Many studies claim the Border Collie to be the smartest dog breed currently existing, but it is not just that – it is also an impressively active dog and not a breed for the couch potato. For a dog that loves to run and play, nutrition becomes even more important than for other dog breeds, and as an owner, it is crucial to find a kibble or wet food that satisfies the needs of a Border Collie.
Puppies need the best Border Collie puppy food (due to their specific nutritional needs of Border Collie puppies), and so do adults and seniors. But what do Border Collies eat, and what food products are recommended?
Our team has spent hours researching products to find the best food for your Border Collies, read our in-depth reviews below. Learn more about our 10 point inspection checklist.
Best Dog Food for Border Collies
1. VICTOR Purpose – Nutra Pro, Dry Dog Food
VICTOR Purpose -Nutra Pro is a dog food that even has a Border Collie and a Border Collie puppy on the packaging, and it is one of those rare cases where the outside of a dog food product perfectly represents what is inside. It has 38% of quality protein, where 92% comes from delicious pork, beef, chicken and fish.
The brand uses meat meal instead of fresh meat, which – due to the water content having been removed – contains 300% more protein than unprocessed meat. Selenium yeast helps support the Border Collie's metabolism and boost his or her immune system, the mineral complexes improve skin health and coat quality and there is plenty of probiotics and prebiotics to keep your four-legged friend at excellent health.
The levels of protein in this Border Collie adult dog food are high enough to keep an active dog breed on top of its game, and it has been enriched with probiotics and mineral complexes for a shinier coat and a strong immune system.
2. Royal Canin Medium Sensitive Digestion Dry Dog Food
Just like many other purebred dogs, Border Collies and Collie dog puppies are prone to certain health conditions, and one is a sensitive stomach. With the best food for Border Collies, none of that will be an issue, and Royal Canin has this option for the adult Border Collie with a tummy prone to rumbling.
This Royal Canine Medium Digestive Care dry dog food has nutrients to help give that fluffy coat some extra shine, and the mild ingredients are beneficial for dogs with skin allergies. If your Border Collie has itchy and flaky skin or if they scratch a lot, this healthy food Border Collies will love is an excellent alternative to traditional food for our furry family members.
This is not a breed specific dog food, but it caters to the needs of many Border Collies, as they are prone to skin allergies and sensitive stomachs.
3. American Journey Salmon & Sweet Potato Recipe Grain-Free Dry Dog Food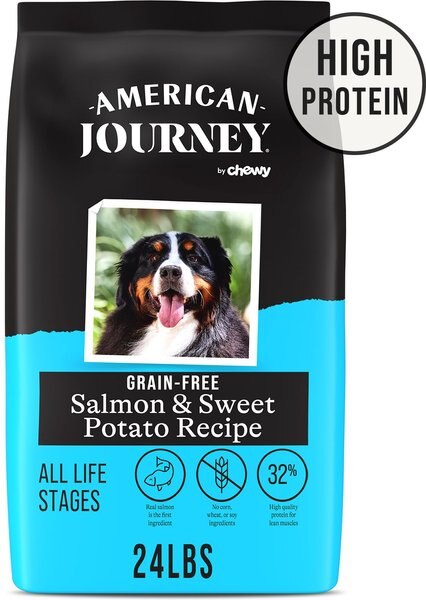 The active Border Collie needs a diet that will keep them going all day long; also for the Border Collies that are used for herding or as working dogs, or for sports like Agility and competitive obedience. The American Journey Salmon & Sweet Potato Recipe Grain-Free Dry Dog Food is made with high-quality protein from wild-caught salmon, it has delicious sweet potato to keep your dog feeling full for longer, and the kibble is completely free from wheat, soy, artificial flavors, and pointless fillers.
Omega-3 from flaxseeds and salmon oil improves coat quality and aids with digestion so that this food will work well also for dogs with a sensitive GI tract. It is the best dog food for Collies with food sensitivities and allergies, and whose owners want to stick to a natural diet.
No grains, plenty of wholesome vegetables, real meat from salmon and no fillers or preservatives – what is not to like? It is a quality dog food by an upcoming brand, where your Border Collie's health is the focus.
4. Hill's Prescription Diet t/d Dental Health Dry Dog Food
Hill's Science Diet is known for their specialized dog foods, made to help with certain health conditions and prevent others, and this nutritious Border Collie diet has the benefit of keeping your dog's teeth clean and their breath smelling fresh. The formula is proven to slow down the build-up of tartar, and each kibble is shaped to clean the teeth as your BC eats.
Hill's Prescription Diet t/d Dental Health Dry Dog Food also has the ideal size for Border Collies and for Border puppies, which also helps with daily dental care. All dogs should have their teeth cleaned regularly, but a kibble like this goes a long way towards satisfying oral health.
Puppy Border Collies, adult, and senior Border Collies all need their teeth taken care of, and what better way to do it than with this dental friendly kibble?
5. Nulo Senior Grain-Free Dog Food with Glucosamine and Chondroitin, Trout And Sweet Potato Recipe
For a dog breed as active as the Border Collie, protein is essential. The Nulo Senior Grain-Free Dog Food is a high protein recipe with reduced carbs, to make sure they get sustainable energy that lasts all day. It has glucosamine and chondroitin for bone and joint health, which is important for medium-sized and large dogs; especially since the natural production in the body slows down as a dog ages.
80% of the protein comes from reliable animal sources, and there are no grains or fillers used in the recipe. L-carnitine aids the metabolism and helps burn fat, to keep your Border Collie in good shape.
Nulo has high protein content and L-carnitine content for improving metabolism so that the sporty and agile Border Collie can get to stay that way.
6. Taste of the Wild High Prairie Grain-Free Dry Dog Food
Taste of the Wild is one of the best dog foods in the world at this time, and their recipes are formed to follow the lines of what a canine would have eaten in the wild. There are no artificial flavors, colors or preservatives, and no grains, soy, wheat or corn. It has proprietary probiotics that can survive in the dog's GI tract, which in turn keeps the metabolism working as it should.
This kibble works well as a Border Collie grain-free puppy food and for that senior Border Collie, you share your home with, due to its complete formula suitable for all life stages. Taste of the Wild is possibly the best dog food for Border Collie mixes and purebred Border Collies, thanks to its high-quality ingredients and thought-through composition.
If you have been looking for the best puppy food for Border Collies or the best food for Border Collie adults, you've found it! It rates 5/5 on most respected dog food review websites, which makes it worth its slightly elevated price.
7. Victor Classic – Hi-Pro Plus, Dry Dog Food
The high protein and fiber content of Victor Classic – Hi-Pro Plus makes it ideal for hungry dogs! You will be able to feed smaller quantities than with other food brands, something that will save you money and time (thanks to not having to visit the pet store quite as often), while also keeping your Border Collie happy. That furball will come flying across the room when you bring out the bowl, and you can let your doggy eat knowing you are providing him or her with the best.
Excessive hunger is a common cause of obesity in dogs, and this dog food has enough fiber to prevent this, by keeping your Border Collie full for longer (and to avoid him or her turning into a fat Border Collie).
8. ACANA Regionals Dry Dog Food, Grasslands, Biologically Appropriate & Grain Free
For anyone who has ever spent time with a Border Collie, it is no surprise that they need good food to substitute all the calories they burn during a day. Border Collies love to exercise and run around, and by choosing ACANA – you give them all the nutrition they need to thrive. There are no artificial flavors or colors, no preservatives, and the first two ingredients are always meat.
With using meat as the first ingredient and a quality meat meal as the second ingredient, the meat content is guaranteed to be high enough for a puppy Border Collie. If you are looking for the best food for Border Collie puppy friends, however, ACANA also offers a product for puppies Border Collies will love and thrive on.
Whether you're looking for collie dog puppy food, or if your puppy collie is growing up and needs a good diet – ACANA has a high-quality option. The best thing about this kibble is how rich it is in protein, which is perfect for the Border Collie breed.
9. Purina ONE SmartBlend Vibrant Maturity Senior 7+ Formula Dry Dog Food
Purina ONE SmartBlend is a budget dog food option that is ideal for senior Border Collies, as it has adjusted levels of protein, fiber, carbohydrates and more. A senior dog's nutritional needs are slightly different from those of a younger dog, and this kibble is rich in both Glucosamine and Chondroitin – known to strengthen bones and joints, to keep your dog pain free for as long as possible.
Omega-6 promotes brain health, something that also becomes increasingly important as the dog grows older, and it appeals even to picky eaters as you can choose to get it chicken flavored or turkey flavored.
Not only is this senior dog food recommended by veterinarians, but it is also a great option for those who might not want to spend a week's salary on their dog food.
10. Crave Grain-Free Adult Dry Dog Food with Protein
Just like the name indicates – this Crave Grain-Free Adult Dry Dog Food is likely to give your pup some real cravings! It has 34% protein, to help Border Collies stay energized and healthy; it is free from grains and uses only quality carbohydrates, and it is free from animal by-products (low-quality protein) and pointless fillers.
Highly regarded websites gave it 5 stars out of 5, which is the highest score available for dry and wet dog food. You get to choose between chicken, beef, lamb & venison and salmon & ocean fish, and it is a dog food you can use also for your smaller dogs – in case you have more than one dog.
The rate this Crave dog food is received by many websites is impressive enough to reserve its spot on this list, and it is a dog food worth trying if you have a Border Collie at home. Plenty of healthy protein, several flavor options and more – a delicious kibble you can't miss.
Dog Food for Border Collies Buyers Guide
Now that we have looked at a few good food options for active Border Collies, it is time for you to decide based on your dog's individual needs. Just because many Border Collies look the same, it does not necessarily mean that they would all do well on the same dog food.
There are, however, a few things for you to look for, to increase your chances of making a successful choice, and to pick a kibble or wet food that will supply your BC with the energy to run around and play for hours at a time. For playtime, here are some of the top recommended toys for Border Collies. If you have not yet acquired your Border Collie – this is the moment to stop and think if such an active breed is truly the one for you.
All dogs need nutritious diets with protein, fiber, good levels of carbohydrates, vitamins, and minerals, but due to the active nature of the Border Collie – a high-protein diet becomes even more important. Protein is what transforms into energy, and regular grocery store brands will usually have insufficient amounts of quality protein. Let's have a look at three key factors when shopping for dog food for your Border Collie:
Protein
This is perhaps the most important thing to look at when choosing what dog food to feed a Border Collie or a Border Collie dog puppy. Protein usually comes from meat, but there are also a few vegetables and legumes that contain good amounts of protein. Here, however, we will be focusing on protein coming from meat, as this tends to be the most desirable kind.
You can figure out the amount of meat in a product by looking at the list of contents, where you will want to find a quality meat product listed first. Make sure the meat product is named (it should not say just "meat," but what type of animal the meat comes from), and expect to find products listing "deboned chicken," "turkey," "beef" and more.
A low-quality protein source you want to stay away from is any type of animal by-products, as there is no guarantee for these containing enough protein. You will usually find animal by-products in supermarket dog food brands, and it is an indicator of low-quality dog food that also tends to be full of fillers and low in healthy nutrients.
Avoid this by choosing a product with real meat, preferably followed by a meat meal, as these have had the water content removed already (therefore making it richer in protein than fresh meat).
Free from Fillers
Fillers in dog food is commonly found in low-quality brands, and it is ingredients added for volume, but that does not contribute with much (if any) nutrition. Examples of fillers you want to avoid are corn, soy, white rice, and wheat; of which neither are necessarily bad or harmful to dogs, but the issue is that they do not get much out of eating it. A cheap dog food packed with fillers is therefore low in nutrition, and not great for an active dog like the Border Collie.
Fiber
Another component to look for in a Border Collie dog food is fiber, which is usually found in wholesome vegetables, fruit, berries, and legumes. A good rule is that the darker a vegetable is, the higher does the fiber content tend to be. Fiber will help your dog to feel full and satisfied for longer, which might prevent begging and other unwanted behaviors.
Obesity is a problem for many dogs, and a Border Collie can easily pack on pounds if they are not exercised properly, or if their owners fail to provide them with proper dog food. Look for fiber in the food you plan to feed and notice the difference in both behavior and weight.
Best food for Border Collie puppy?
If your BC is still a Collie puppy, you have the opportunity to get him or her a good start in life with the right dog food! Have a look at the brand ACANA, as they offer life stage-specific quality dog foods, where you can get a kibble designed to meet the needs of a growing dog. Their products are grain-free and rich in protein, and it is one of the best dog food brands currently available.
What should I feed my senior Border Collie?
'Purina ONE SmartBlend Vibrant Maturity Senior 7+ Formula Dry Dog Food' was made to suit senior dogs as they grow older, and it has all the nutrients an aging dog needs to stay strong. Chondroitin and Glucosamine are there to strengthen their bones and joints, and the precise vitamin blend aids with everything from brain function, to coat quality and cardiac health.
How to know if a dog food works for my Border Collie?
As mentioned earlier, every dog is different, and the only way to truly know if something works or not is by trying. Pick a high-quality product and start there, and then allow your dog some time to adjust to the new food. New dog food should always be introduced slowly, but your Border Collie might still present signs of stomach problems and diarrhea for a few days, depending on their metabolism.
If this continues for weeks or months, it could be an indicator that the food you chose isn't working, and if so – talk to your veterinarian to rule out any other health issues before switching again.
Conclusion
There are a lot of decisions you need to make as a Border Collie owner, and every decision could have a direct effect on your furry friend's health. Choosing a quality dog food is perhaps the most important decision you will ever make for them, and it could be what keeps them alive and healthy for many long years, but also what allows them to reach their full physical potential. Border Collies are active dogs, and they deserve a diet that gives them the energy they need to be what they were born to be – intelligent and lovable Border Collies.
Expert Tip
Look beyond the packaging, as marketing can be deceiving, and learn to read the ingredient list before settling on dog food product for your Border Collie.
Did You Know?
The Border Collie gets its name from the region it comes from! It was developed on the border of England and Scotland, and due to quickly becoming popular on and close to the Scotland/England border – the breed was named 'Border Collie'.